Online Safety Advice
We are pleased to announce that at RHJS, we recently gained the National Online Safety Accreditation for our commitment to keeping children safe online. This demonstrates that children are taught a comprehensive scheme of lessons on online safety, staff are trained to a high level in supporting children in online matters, and that safeguarding our children against online risk and harm is a key priority in our school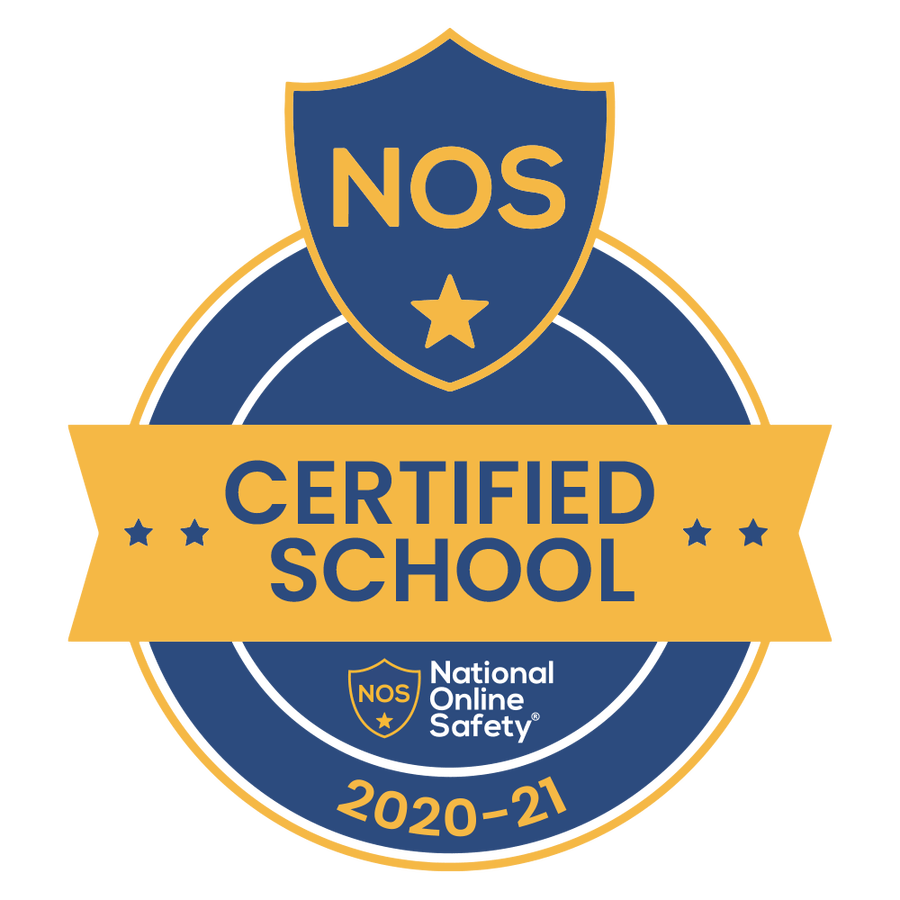 Home - School Communication
Our fortnightly parent/ carer newsletter, contains regular online safety advice and parental guidance. Please see below for recent advice and on hot topics related to staying safe online.
Safer Internet Day 2022
The children at RHJS observed Safer Internet Day by taking part in lessons and activities on this years theme, "All Fun and Games". The children at the school created their own feature film to highlight safer communication when gaming. Please have a look at the parent and carer information, along with the children's film.
Healthy and Safe Gaming- Tips
When your children begin their relationship with gaming and online communication, how can we as adults support them? Why not have a look at top tips from Parentzone expert, Sophie Linnington.
Worries About Unsupervised Children Online
All primary age children should be supervised online at all times. And that we strongly advise that age ratings for apps should be considered by families. Europol state that they have recently seen a surge in dangerous contact between children and predators on social media apps and the age ratings are there to keep the children safe.
Facebook - 13 years old
Instagram- 13 years old
Tik Tok -13 years old
WhatsApp -16 years old
House Party - 13 years old
Some Apps that are causing considerable concerns with NSPCC and should strictly not be used by children due to their focus on communicating with strangers are-
Omegle
Kik
Kids Chat
Meet Me
Tellonym
Wink
Monkey
Please check that your children are not accessing these platforms.
Top Tip- We strongly ask you to consider following the age ratings for all social media apps, but if you do allow your child to use them, it is recommended you also use them. Friend your child, follow them, so you can check they are not posting content that can leave make them vulnerable and follow any influencers they do, that way you can view the online content they are viewing and intervene if necessary.
Remember, when your children are online, they are accessing the adult world, without the life skills to know how to navigate difficult communications and content. Communication and open dialogue are the key to keeping your children safe online. Information acquired from PREVENT, shows huge numbers of children trying to 'manage', difficult online situations for fear of getting into trouble or banned from devices games or apps. Communicating with your child that they can tell you anything, it the best possible prevention for this.
If you are worried or concerned about your child's online habits or any games or platforms your child is accessing, please make contact with the school, and we can help to support you with this.
Yours in partnership,
Mrs Allan
Live Streaming
In a recent poll, some of our children stated they live stream or use apps with live streaming features. Livestreaming is becoming a very popular way for young people to broadcast themselves and to communicate with their friends or wider community, just as their favourite celebrities and Vloggers do.
What makes live streaming risky?
There are several factors that can make watching or creating live streams risky for children and young people.
Content.

If they're watching other people's live streams, children could be exposed to age inappropriate content, including sexual or violent content.

Offensive comments

. If a young person's live stream is open to the public, viewers may be able to leave negative or inappropriate comments on feeds.

Live streaming is 'in the moment'.

Live streaming is 'in the moment' which increases the risk of children and young people acting on impulse.

Do things they wouldn't do offline.

Children, like adults, can feel more confident when they are online as they feel protected by the screen. This can result in them saying or doing something they'd be less likely to do offline.

Digital footprints.

If a live streamer makes a mistake, shares personal details, or broadcasts offensive or inappropriate material, they are doing so in public. It's possible for viewers to record a livestream, and it could be posted online or shared more widely.

Inappropriate contact.

There can be hundreds, potentially thousands, of people watching a live stream, including people who might be looking to hurt or exploit children and young people. In order to manipulate children, these people may attempt to trick them into engaging in sexual activity, flatter them with positive comments or gifts, or make threats to try to force them to do things they don't want to do.
For further information about live streaming and how to keep your children safe, please have a look at the Think You Know Video and The National Online Safety Guide:
Online Safety - Do your children have digital devices on their Christmas wish list?
Christmas or birthdays are often a time when children receive a digital device of some sort, whether it's a laptop, tablet, console or other 'connected' device. The introduction of new devices is the ideal opportunity to establish rules and healthy digital habits with children as well as a great time to start conversations about how to stay safe online when using them.
Sarah Smith from the Breck Foundation, has some great tips about introducing new technology into a family home:
' If your child is about to get their first console or handheld device, make sure that you set out your ground rules right away – and remember it is always much harder to put stronger rules in later, so start fairly strict! Spend some time getting to know the ins and outs of the console or device before Christmas morning. Know how to use the safety features – you can find lots of useful advice right here on Internet Matters. The rules are up to you but I would always strongly suggest gaming or going online in a communal space, not a bedroom, so you can keep an eye on what they are doing. Consider a daily time limit (this might be different at weekends or on holidays). There should be a clear cut-off time at night, and devices should always be left outside the bedroom. Studies have shown that the addictive nature of our devices still has hold of us even if they are turned off, or are face down. They need to be well out of the room, so children get enough downtime away from them. And also, remind them that the people they may come across online are strangers – always, no matter how friendly they are – and they should remember that we should not treat them as friends.
For older children or those that are already going online, our advice is always the same. Keep connected. Play the games with your child. Enjoy some bonding time – be the rubbish one! Let them beat you (believe me, the time comes round very quickly where you can't beat them even if you try!). Use the Christmas period to build a solid foundation of trust and reciprocity between you and your children so that if and when things go wrong, they know they can come to you without fear of reprisals. This is the key to having not just a safe digital Christmas, but a safer digital life online full stop. Try bringing hypothetical scenarios into your gameplay – 'What would you do if someone started to talk to you online? How would you handle it?'
What have the children been learning?
Teaching children how to be safe online is a high priority at the Junior School. Last half term children worked with their teachers to explore fake imagery. In assembly, a celebration of the learning and experiences that took place throughout the school was shared with the children. You can view the assembly here: https://youtu.be/pWkRCJYE4Gw
This half term, children will be developing critical thinking skills and evaluating the reliability of what they read online, including determining what are extreme views, reliable sites and different types of fake news.
Snapchat
Do your children use Snapchat? Is it safe?
We are aware that some children in the junior school use the 18+ messaging app, Snapchat. Snapchat can on the surface appear innocent enough but can pose significant risk to children. Snapchat allows users to send videos, pictures and messages to a group of recipients with the 'snaps' viewable for a short amount of time before they disappear.
This makes it nearly impossible for parents to see what their child is doing within the application. Because there is no trail of messages, Snapchat is often a platform used for cyberbullying, sexting and inappropriate content. For these reasons, we would ask you to reconsider letting children use Snapchat.
For further information, please see the guide below.
At the end of the last academic year, all children at the junior school took part in an online safety survey. In this, children were asked about their digital habits and about how they felt when using the internet. The children's responses were insightful and will help to guide our online safety teaching going forward.
It became apparent that a large number of our children use communication apps, such as WhatsApp (16+). It was also evident when talking to the children, that many of them are using the platforms without knowing what to do if something goes wrong, i.e. blocking and reporting, so this was covered in this half terms online safety assembly. You can find the WhatsApp guidance shared with the children here:
Another communication app that many of our older children stated using was Discord (13+). If your children do use this communication app, please take the time to look at the parent's guide. Here you will find tips on a number of potential risks such as inappropriate content, sexual imagery and cyberbullying.
Yours in partnership,
Mrs Allan
Autumn 2 -Should I Believe It? Online Safety Assembly
Mrs Allan has prepared an online safety video for the children at Rednal. We thought it offered lots of good advice and was too good not to share with parents.
A recent Ofcom survey, found that children's media viewing habits have changed dramatically over the past few years, with video sharing platforms now proving more popular to children than live TV. The survey found that 97% of children aged 5-15 regularly watch VSP's, such as YouTube, as a main source of entertainment.
Please have a look at the National Online Safety guide to YouTube on how to make your children's experiences safer. We would also like to take this opportunity to state that although there is no age recommendation for children to watch YouTube, it is recommended that children under 13 do not have their own accounts and share content themselves. There have been increasing concerns around YouTube since the 'Go Live', live streaming feature has been introduced.
As always, please feel free to make contact via the school office for any further support related to online safety.
Best wishes,
Mrs Allan
Filters and Content Settings
Confused by online safety parent controls? You're not alone.
Parent opinion recently gained from OFCOM, shows that a huge majority of parents are unsure where to start with settings to ensure your children are safe online. At RHJS, we aim to support our community in all matters of online safety, so please read our top tips on creating a safer online environment at home.
Household filters are easier to apply than you may think.
Many internet providers now recognise their duty of care towards young children who use their services. Internet providers such as BT, Virgin Media and others, provide free filtering services, which can:
Block inappropriate content
Limit in-app purchases
Manage which apps children are allowed to download
Filters can be tailored to your family's needs, so if you would like content filtering to be active for when your child is online, and taken switched off once they are in bed, this is possible. In most cases your internet provider can set this up for you over the phone. Please think about calling your internet provider and asking what they can do to help keep your children safe.
Buying a mobile phone for a child or giving them your old mobile?
Most mobile phone providers offer free parental control services which limit the content children can access via the mobile network to items suitable for under 18s. However, they may not always be automatically switched on.
Check with your service provider that the parental control settings are switched on, and ask for them to be switched on if they are not. This is particularly important if the phone was used by an adult before.
We have attached two guides for applying settings to your children's phones, but again a good place to start is to pop into a branch of your phone provider, pass them your child's phone, and ask them to help you to apply the settings.
Please make contact with the school if you would like to discuss any of the above.
Yours in partnership,
Mrs Allan
Online Safety - Worries about Children Accessing Grand Theft Auto (GTA) and Call of Duty
Children at Rednal have recently completed a series of CEOP lessons, looking at a number of issues related to online safety. By the end of the sessions, the children showed a great understanding of how to stay safe online and were familiar with the risks associated with online friendships, sharing videos and photos, livestreaming and in-game chat.
Older pupils in the school, were open and honest about games they play at home. A very small number of children in the school stated they play 18+ games, such as Call of Duty and Grand Theft Auto. These games cause much concerns, due to the adult nature of the content as well as the conduct and contact risks associated. GTA for instance has content that includes: sex, nudity, violence, bad language and substance abuse. We would strongly urge parents and carers to reconsider letting children play these games and ask you to look at the parents help guides below.
If you need any support related to gaming or online safety, please contact the school and we would be happy to support.
Best wishes,
Mrs Allan
Rest assured, staff will continue to look out for signs a child may be at risk whist at school. Any such concerns will be dealt with as per the child protection policy and where appropriate referrals will still be made to children's social care and as required the police.
On top of this there are a lot of support available to keep your child safe online. Below are some useful links to help parents, carers and children.
Parents and children, as well as reporting any concerns back to school, there is also some practical support available at:
We will be in regular contact with our parents and carers. We'd like to take this opportunity to reinforce the importance of children being safe online. During this time, it is especially important for parents and carers to be aware of what your child/children are doing online and who they are interacting with.
If you choose to supplement our school online offer with support from online companies and in some cases individual tutors, we'd like to highlight the need to secure any online support from a reputable organisation/individual who can provide evidence that they are safe and can be trusted to have access to children. Support for parents and carers to keep their children safe online includes:
Mrs Allan's online safety assembly
National Online Safety Community Support Package
We understand making sure your children are safe online is particularly difficult. To support our school community with this, we would like to share our National Online Safety resource with you. This tool contains parent videos, courses and guides for many of the hot topics related to online safety, as well as guides for popular apps and games.
To access our school subscription, please download the National Online Safety app and create a free account.
National Online Safety Guides Apps and Games
We speak frequently and opening at school with our children about what apps and games they know of and are around. Our pupils have mentioned the following games and apps. If your children use any of the apps or games listed below, please familiarise yourselves with the guides and consider whether your children are safe using them or if they pose a risk.
National Online Safety Guides to Support with Mental Wellbeing
Discussing Harmful Online Content
"The things I wish my parents had known…" draws together advice from 16-21-year-olds on how parents should manage tricky conversations around sexual harassment and access to inappropriate content, including pornography. No child should have to stumble across harmful content online, and the Children's Commissioner is taking action to try and tackle this issue. Please take a look at the guidance for parents now on how to support your child if they do come across harmful content online.
How have we helped our children stay safe online this year?
Our children regularly take part in online safety lessons and assemblies throughout the year and include stand alone lessons and in PSHE time.
Please have a look at a snapshot of the work they have produced so far this year.
AUTUMN TERM 1- IS IT REAL? Focus: Fake Imagery
Autumn 2 -Should I Believe It? Focus: Finding Trusted information online, fake news and extremism.
Spring 1 -Who Are You? Focus: Stranger Danger Online, Who can I communicate with?